Simplifying Surgery For a Complex Clinical Picture
With neurofibromatosis type 2 (NF2), aggressive tumor growth can result in a complex clinical portrait including facial paralysis and partial or complete hearing loss. Typically, surgical treatment for advanced cases might include three or more separate surgeries to remove the tumor(s), place an auditory brainstem implant (ABI) or cochlear implant (CI), and reanimate the facial nerves.
When a patient with NF2 experiencing symptom escalation—including total hearing loss and facial paralysis—was referred to the Comprehensive Neurofibromatosis Center, a team co-led by J. Thomas Roland Jr., MD, chair of otolaryngology-head and neck surgery, targeted an ambitious goal: achieving tumor resection, hearing restoration, and facial nerve reanimation in a single surgery.
"Once this patient could no longer communicate or control her facial function, it became clear that the tumor was aggressive enough to warrant action," Dr. Roland says. "I wasn't sure it had ever been done before. But the patient was ready to move toward recovery, so she opted for the single procedure."
Integrating the patient's surgical needs into a single-day procedure required orchestration between neurosurgery, neurotology, audiology, plastic surgery, and facial reanimation specialists.
"The teamwork between our neurosurgeon and neurotologist allows us to tackle the most difficult tumors with confidence," says John G. Golfinos, MD, chair of the Department of Neurosurgery. "Based on our extensive experience in NF2 within neurosurgery and ENT, it's unlikely to encounter anything we haven't seen before."
The team successfully performed the tandem procedure, removing the patient's tumor, restoring her hearing, and reinnervating her facial movement. Her quality of life has returned far sooner than would have been possible through multiple surgeries.
A Symptomatic, Treatment-Refractory Tumor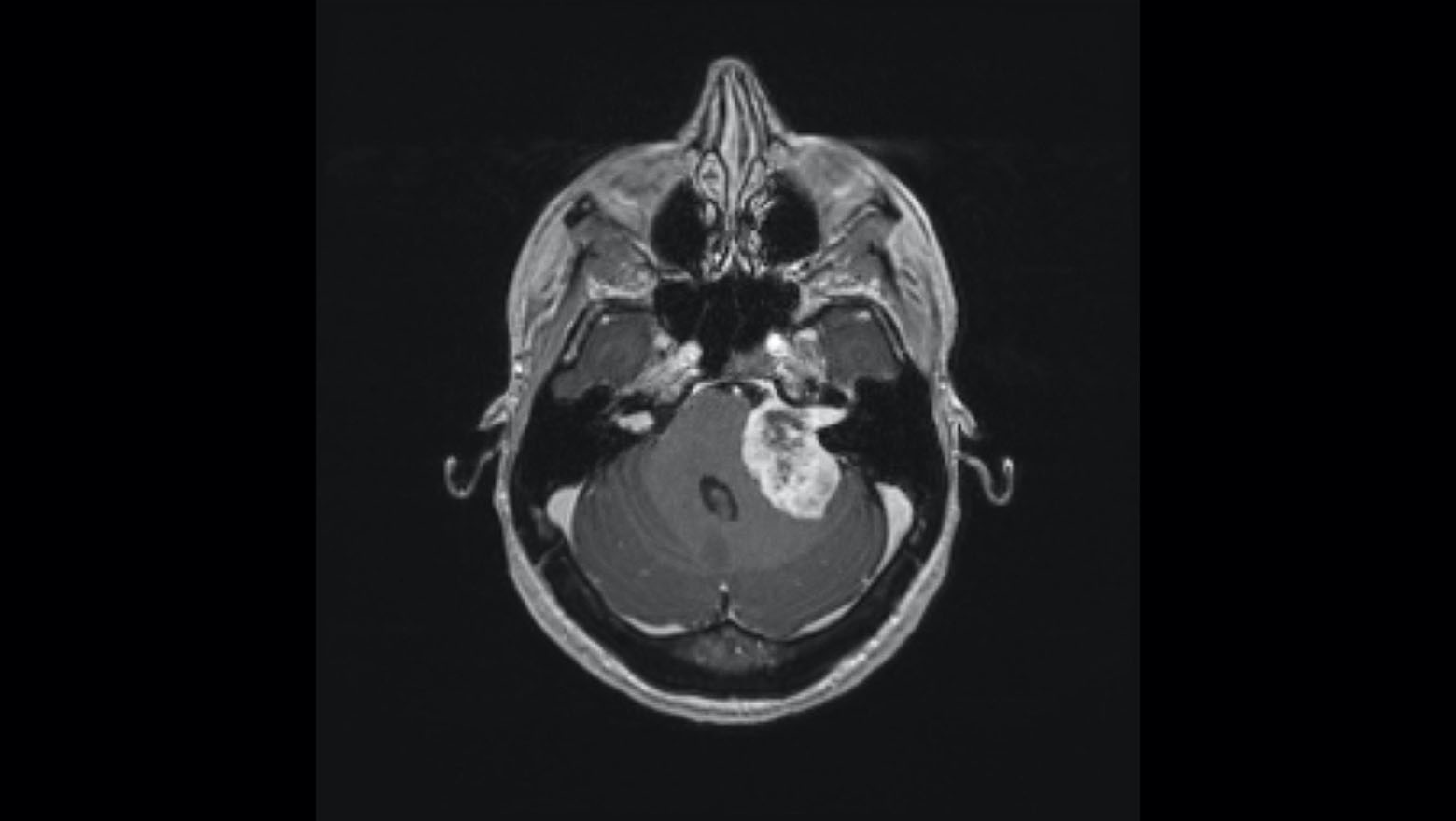 The patient experienced single-sided deafness after undergoing a prior surgery at another center for a right-sided vestibular schwannoma (pre-surgery photo shown). Sudden symptom escalation prompted her to seek urgent consultation, and a single, complex surgery was planned to treat tumor recurrence.
Phase One, Tumor Resection, Complete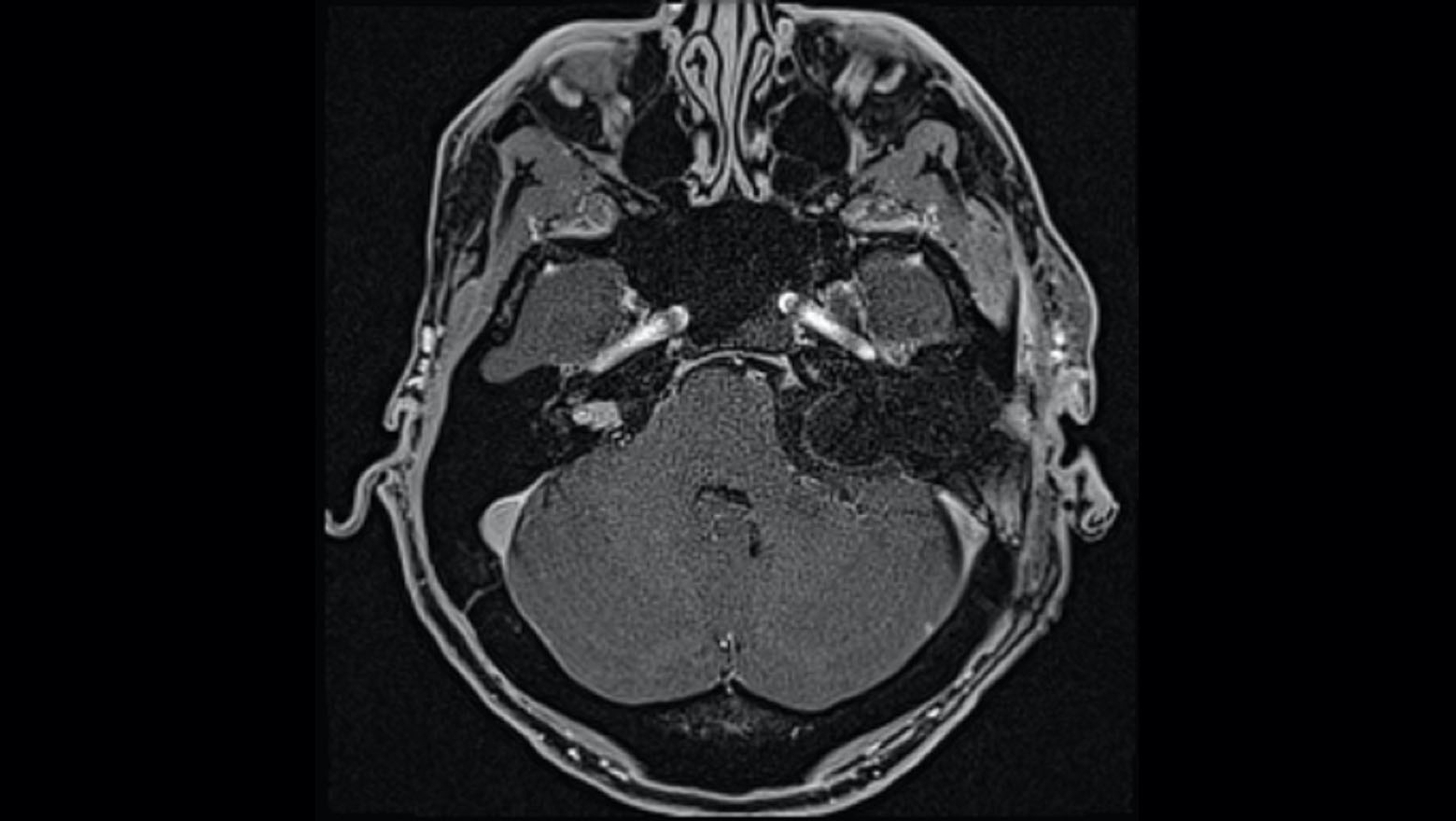 With the tumor resected, Dr. Roland applied a technique he pioneered, facial-to-hypoglossal neurorrhaphy with parotid release. He dissected the distal portion of the facial nerve and released the parotid gland, then connected the facial nerve to another adjacent nerve. The approach reduces the number of needed anastomoses, which eliminates half available nerve fibers. The facial reanimation team, composed of head and neck and facial plastic surgeons, completed a number of other nerve transfers to the facial nerve using a technique they have pioneered.
Auditory Brainstem Implant Successfully Placed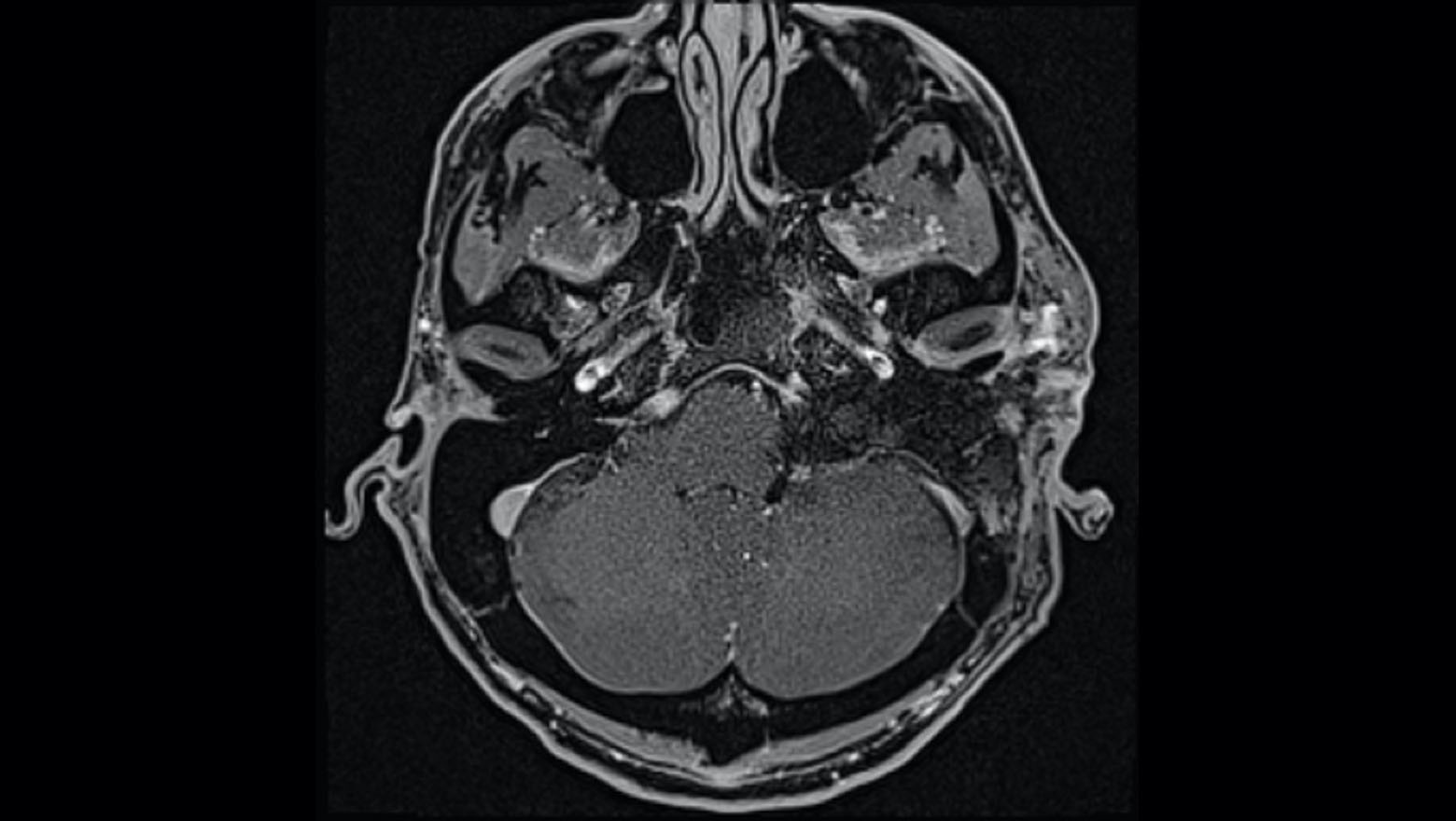 While a CI can be placed if there is an appearance of functioning cochlear nerve, the tumor had grown so rapidly that it compromised the cochlear and facial nerves, indicating an ABI would be more effective. The patient's auditory brainstem responses were assessed by William Shapiro, AUD, co-director of the Cochlear Implant Center, to ensure adequate ABI paddle placement.