Patients Benefits of ESD
Gastroenterologists at NYU Langone Health are increasingly turning to an outpatient procedure to remove early cancers from the gastrointestinal tract. The procedure, known as endoscopic submucosal dissection, or ESD, is allowing more patients to avoid complex surgeries such as esophagectomy.

"Most patients who receive ESD are discharged the next day, after observation. This is a major difference from surgical resection which often requires an inpatient stay of up to 10 days or more," says Gregory B. Haber, MD, chief of endoscopy and one of only a small number of physicians in the U.S. performing and teaching the highly specialized procedure.

During the procedure, Haber uses a high-definition endoscope to locate and mark tumors within the esophagus, stomach, or colon of anesthetized patients. He then injects the area with a solution that includes epinephrine, hetastarch, and methylene blue to elevate the lesion and protect surrounding mucosa, before removing the whole tumor with an electrocautery knife. The approach allows a more precise resection than other techniques, Haber says.
More Nuanced Assessment
"ESD is a more effective option than endoscopic mucosal resection because it allows a deeper resection. It also allows us to remove the lesion in one piece to ensure that all cancerous cells are taken out."
Whole, ESD-resected tumors allow for more accurate histopathological assessment. Outcomes from ESD are also comparable to other surgical interventions, Haber says, with acute bleeding as the most common adverse event, followed by perforation, but all manageable with endoscopic treatment.
Broad Treatment Potential
Patients with Barrett's esophagus, early-stage dysplastic cancers, or superficial tumors of the esophagus, stomach, or colon all stand to benefit from ESD. These patients would otherwise face invasive surgery to remove parts of the gastrointestinal tract.
Deep Tumors Prepared for ESD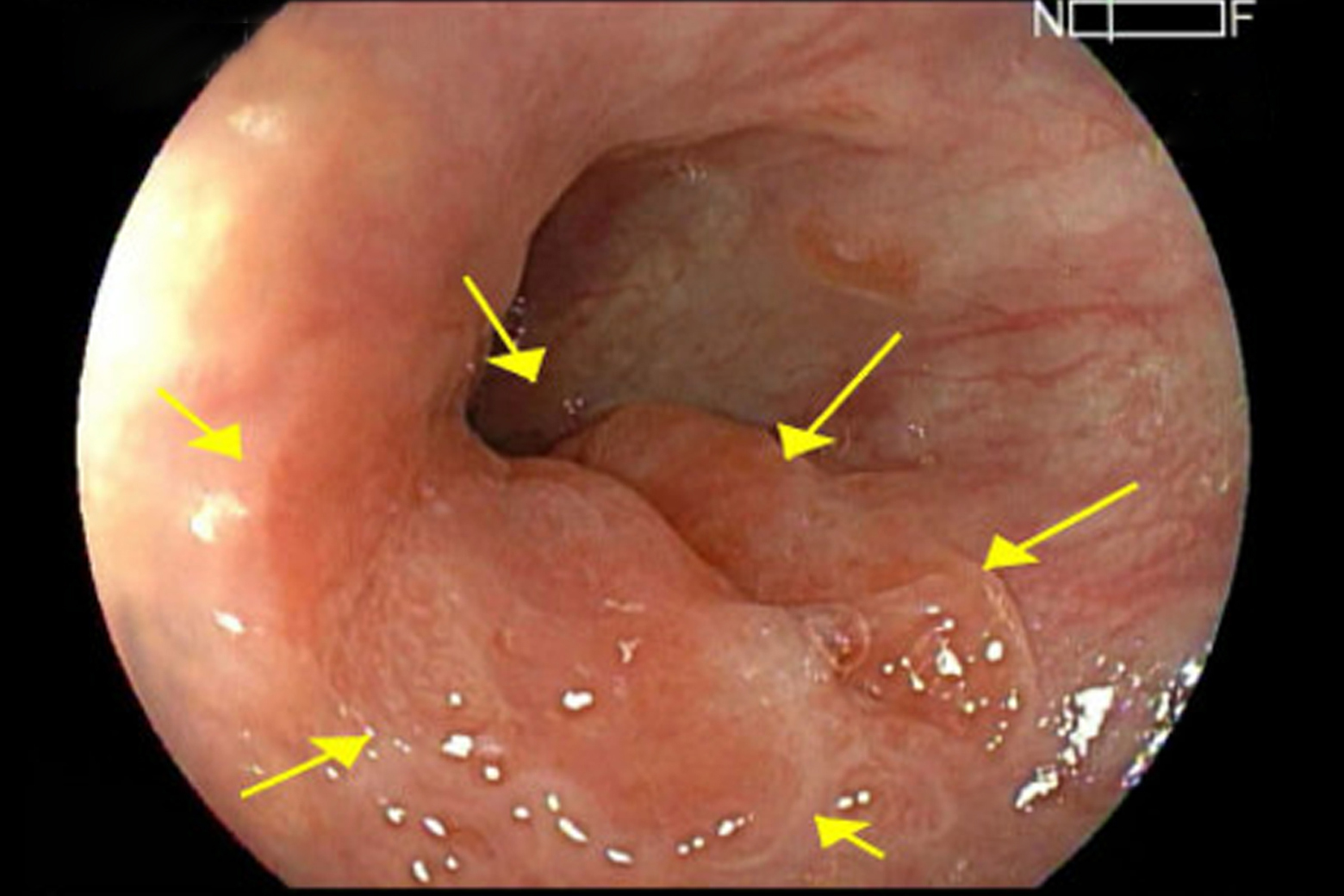 Endoscopic submucosal dissection (ESD) is an emerging technique in the U.S. to resect deep GI tumors. First, tumor margins are marked using electrocautery, as shown here in a 60-year-old patient with a history of acid reflux and Barrett's esophagus. Prior biopsy revealed adenocarcinoma.
Improved Tumor Visibility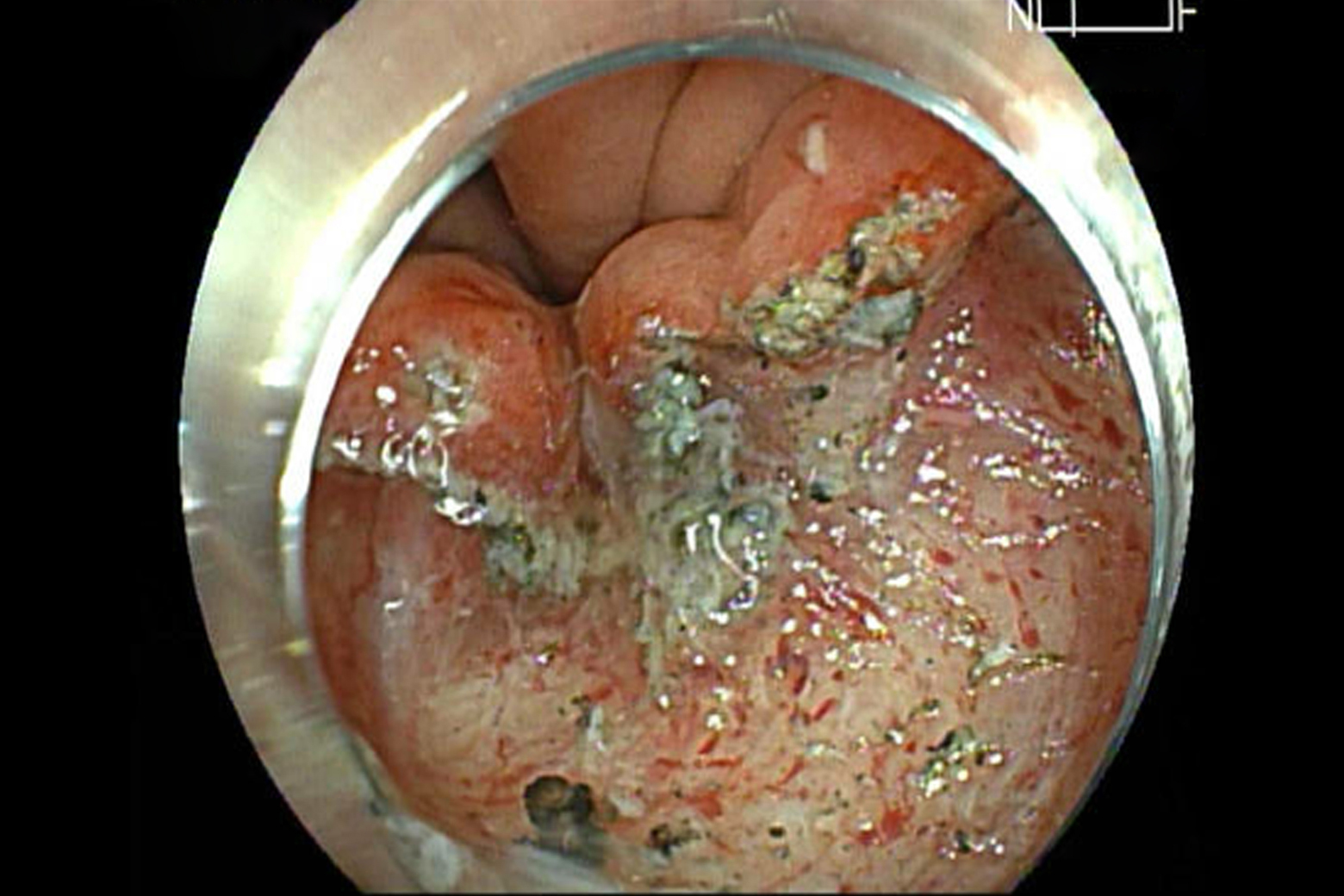 Submucosal injection is used to help elevate the lesion from the muscle layer and improve its visibility. Tissue traction further exposes the submucosal space.
Whole Tumor Resection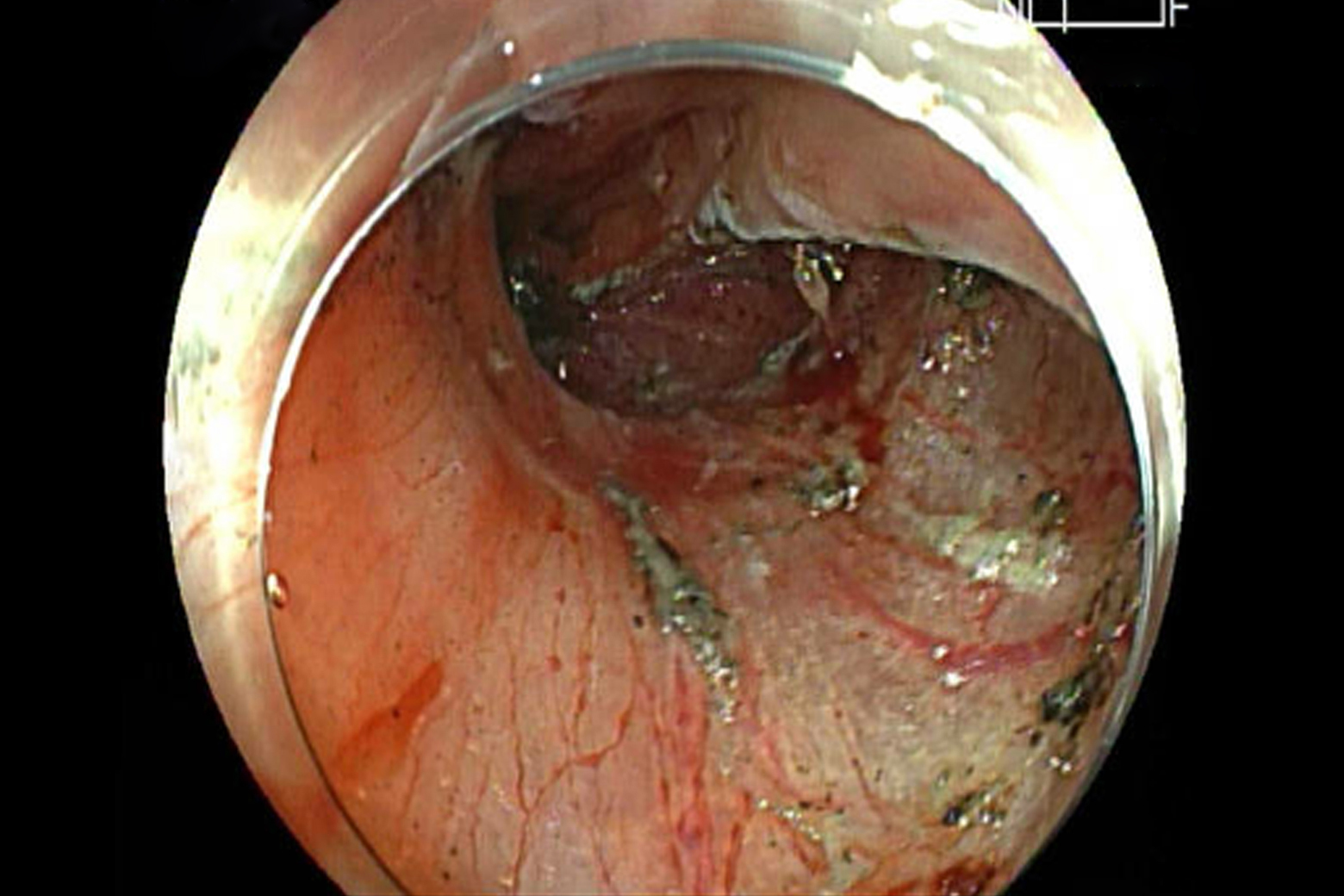 Moving an electrocautery knife circumferentially, the endoscopist performs the submucosal dissection, peeling the intact lesion away from the surrounding esophageal muscle layer with subsequent dissection of the connective tissue of the submucosa beneath the lesion.
Entire Specimen Analysis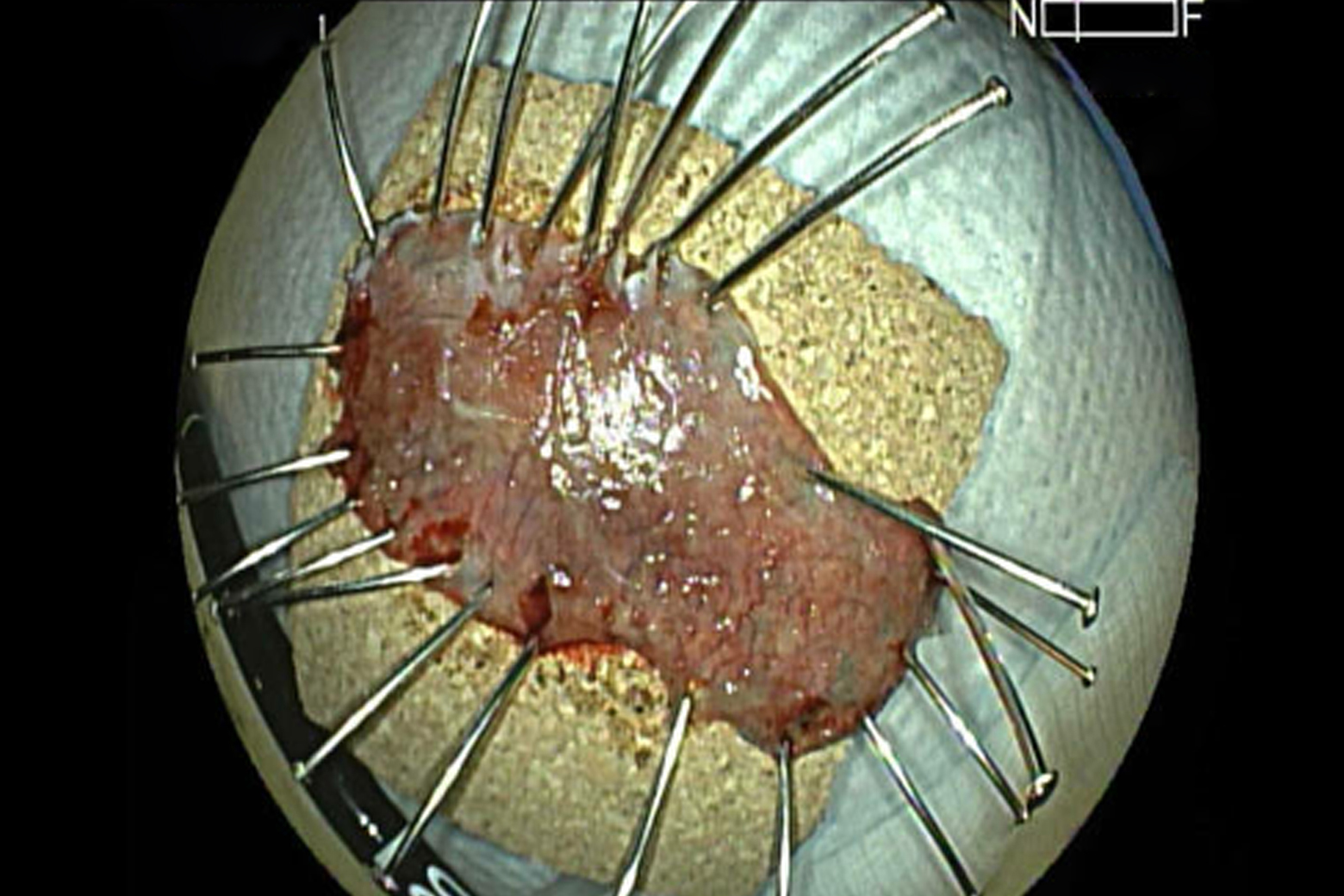 Once resected, the whole lesion can be pinned and sent for histopathology.
Pathological Finding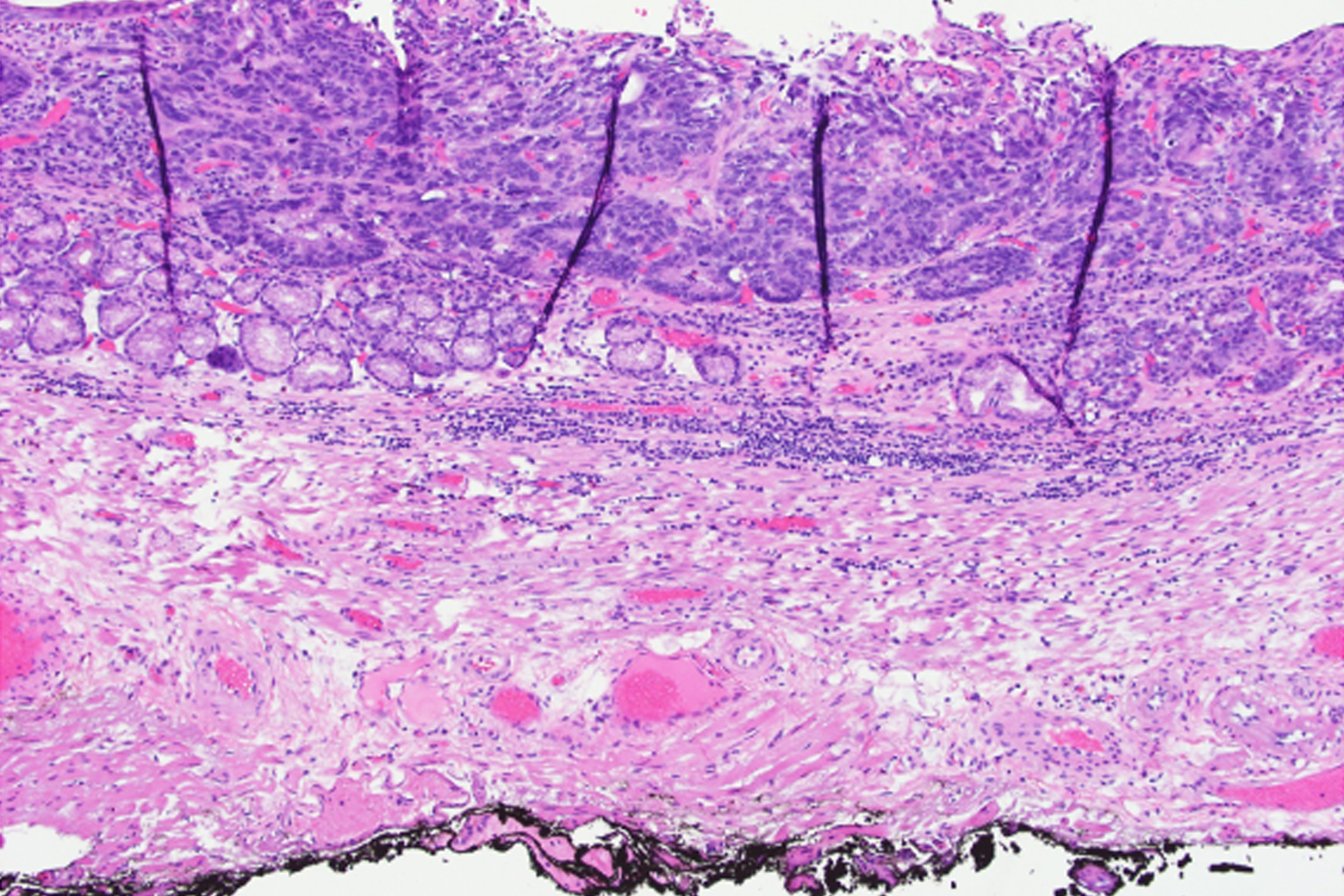 In this case, pathology revealed esophageal invasive adenocarcinoma with clear margins and no lymphovascular or perineural invasion.
Minimal Damage, Healthy Outcomes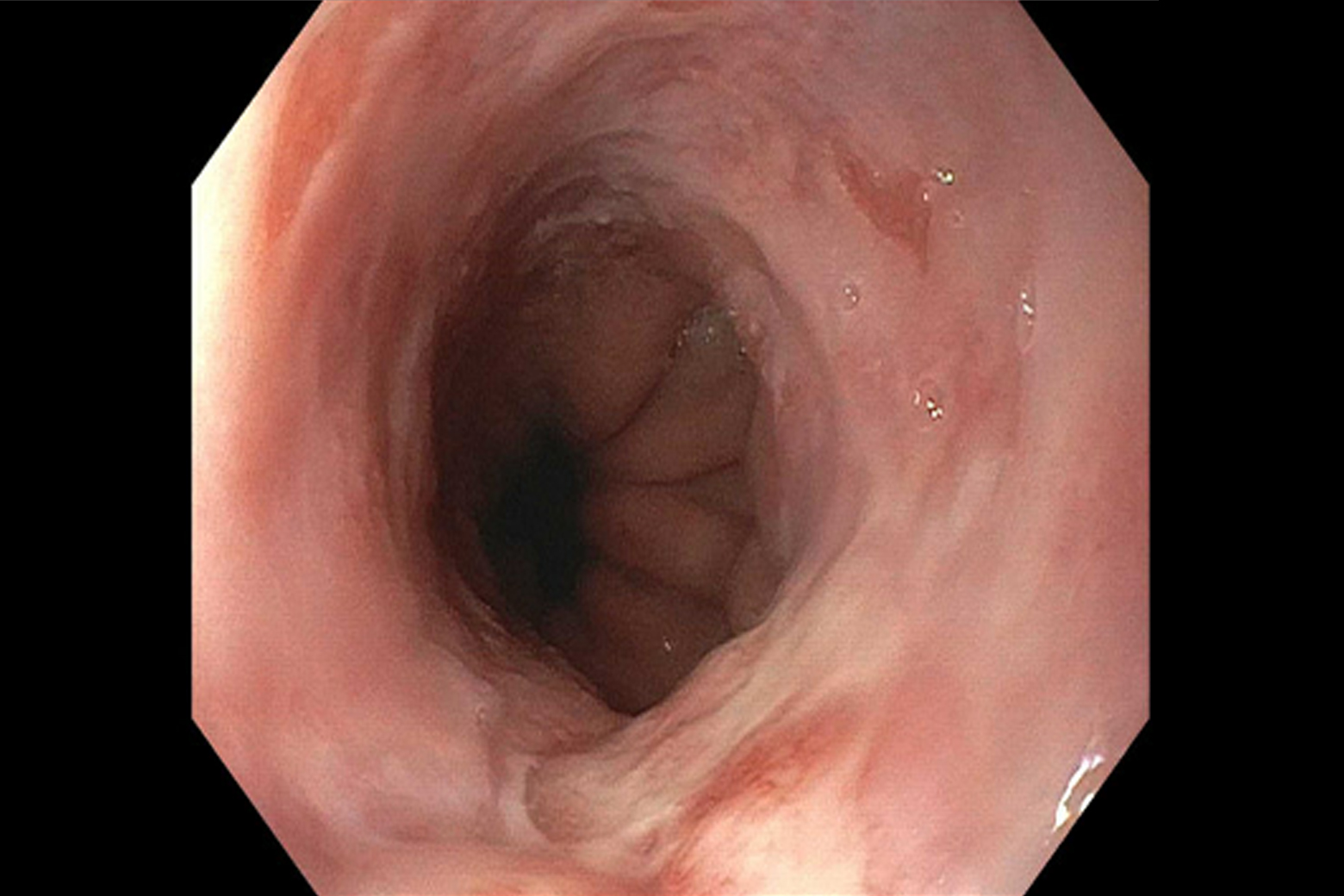 Bleeding sites are kept clearly visible throughout ESD, allowing quick coagulation when needed. The lesion is completely resected without surgery. At three months, follow-up endoscopy (depicted above) for this patient showed a single healthy-appearing scar with no stenosis or inflammation found in the entire esophagus.