Safer Intervention for Pelvic Lesions Reduces Pain and Improves Mobility
A woman in her 50s presented to the NYU Langone Hospital—Brooklyn emergency department after a work-related fall. She reported severe pain in her right hip that had persisted for months and x-rays revealed lesions on her spine. Physicians diagnosed her with multiple myeloma with involvement in the spine and pelvis, and surgeons performed a percutaneous stabilization of her spine using bone cement.
The traditional surgery for ablation and stabilization of periacetabular pelvic lesions, the modified Harrington procedure, carries a high complication rate. Instead, a team led by Karim Masrouha, MD, assistant professor of orthopedic surgery, performed one of the first surgeries of its kind in the New York metropolitan region.
In collaboration with NYU Langone Health's Division of Musculoskeletal Imaging, the surgical team used a cone beam CT scan and software to map out the precise entry point and trajectory for a minimally invasive pelvic tumor ablation. After the probe-aided ablation, Dr. Masrouha inserted a stainless steel screw and cement to provide stability to the patient's pelvic bone. "With a tiny incision, it allows us to take care of the tumor, fill in the space with cement, and put in a screw that acts like rebar," he says.
The morning after the surgery, the patient reported being pain-free in her right hip for the first time in months. After being bedbound for several weeks, she was able to get up and begin walking again on her own. "It's very clear that this is a safe and minimally invasive technique compared to the conventional alternative," Dr. Masrouha says. "It isn't a cure for the multiple myeloma, but it allows for good pain control, improved function, and a better quality of life."
A CT-Guided Approach to Pelvic Tumor Ablation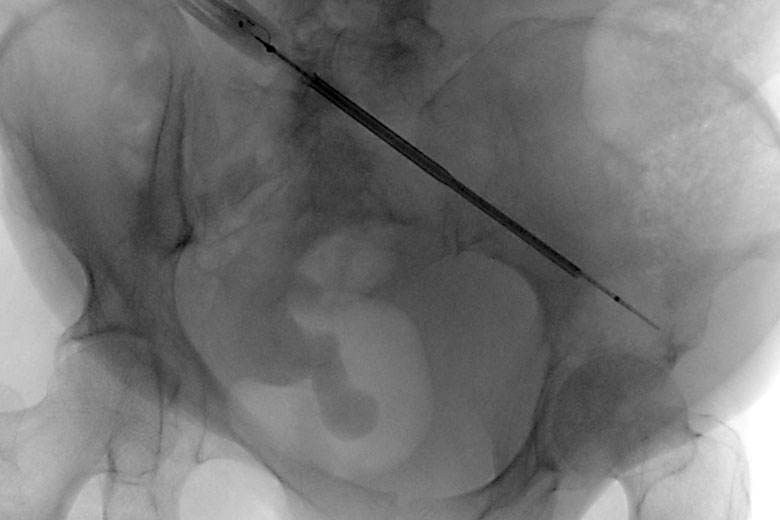 Cone beam CT imaging mapped out the trajectory for precise drilling within the patient's pelvic bone. A musculoskeletal radiologist then inserted a probe to ablate the tumor.
Minimally Invasive Screw Insertion and Cement Fixation Stabilize Pelvis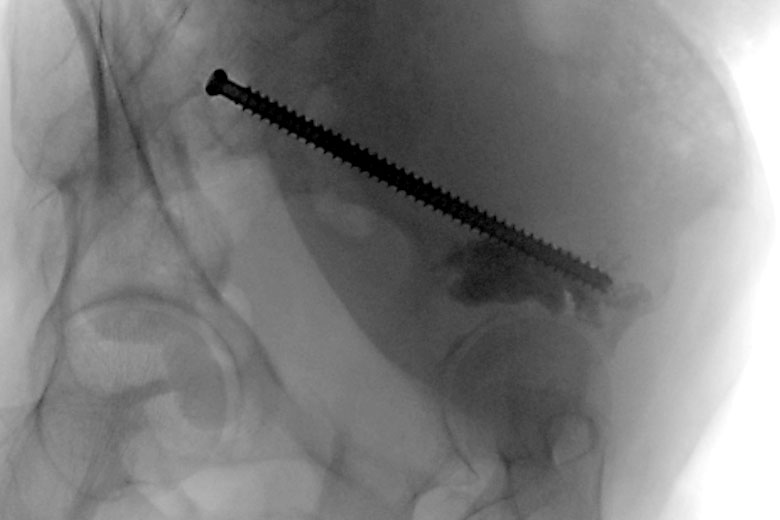 After tumor ablation, a 12.5-centimeter-long, 7.3-millimeter-diameter stainless steel screw was inserted to the edge of the tumor's location and cement was injected through the cannulated screw into the cavity. The screw was then advanced to the far end of the ablated lesion to act as a stabilizing rebar within the pelvic bone.
Adapted Cone Beam CT-Guided Screw Placement May Yield More Applications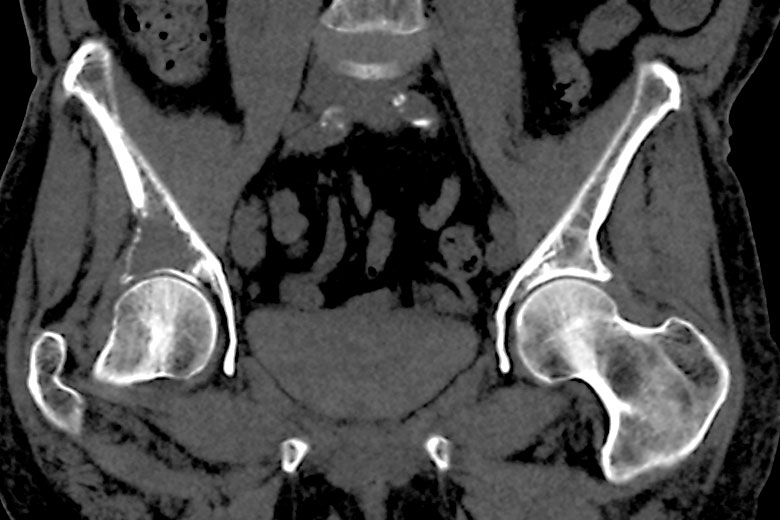 Cone beam CT imaging was initially developed for interventional radiology and cardiology. Applying the mapping and minimally invasive technique to pelvic tumor ablation and stabilization has yielded a safer alternative to traditional surgery. The procedure could be adapted for orthopedic applications requiring multiple screw trajectories, such as stabilization after traumatic injury.