Well-planned growth and consolidation of health systems can drive greater efficiency and care coordination, but recent studies suggest that health system mergers haven't always lived up to this ideal.
Nearly 25 years ago, NYU Langone Health embarked on a unique path to system growth when Joseph D. Zuckerman, MD, inaugural chair of the combined Department of Orthopedic Surgery after the merger that created NYU Langone Orthopedic Hospital, was tasked with integrating two residency programs and two faculties providing care at five institutions. The same strategy later helped NYU Langone Health expand into Brooklyn and Long Island.
Today, Joseph A. Bosco III, MD, vice chair of clinical affairs in the Department of Orthopedic Surgery, continues to work closely with Thomas R. Lyon, MD, vice chair of orthopedic surgery at NYU Langone Hospital–Brooklyn, and James D. Capozzi, MD, chair of orthopedic surgery at NYU Langone Hospital–Long Island. Together, they ensure that ongoing growth of the system's footprint also expands high-quality patient care. Below, they discuss opportunities and challenges they have navigated as a leadership team.
Physician Focus: Dr. Bosco, you've said that you approached the department's growth believing there is a critical difference between "acquisition" and "integration." How do each of you see that difference?
Dr. Bosco: Hospital systems are growing by acquiring and merging with other systems, but in order for patients to reap the benefits, the entities must integrate. That's why we see, nationally, that as hospital systems grow in size, their quality doesn't necessarily improve. We're taking a different tack here. We've grown deliberately and strategically, and we spend a lot of time ensuring a total integration of our service lines where we've chosen to merge.
Dr. Capozzi: We recognize that the facilities, personnel, patient populations, and even geography in Manhattan may be very different than in Brooklyn and on Long Island. Trying to impart one way of doing things on all three hospitals would never work. To achieve a successful system integration, we've been in constant communication and have all learned from each other's practices and hospitals, taking our differences into account.
Dr. Lyon: It was clear from the beginning that this was going to be much more than just an affiliation, but a full-on integration of quality standards, data, and systems. We established the important goal of providing high-quality care regardless of location, and we have created a metrics-driven system to help us achieve that.
"We established the important goal of providing high-quality care regardless of location, and we have created a metrics-driven system to help us achieve that."

Thomas R. Lyon, MD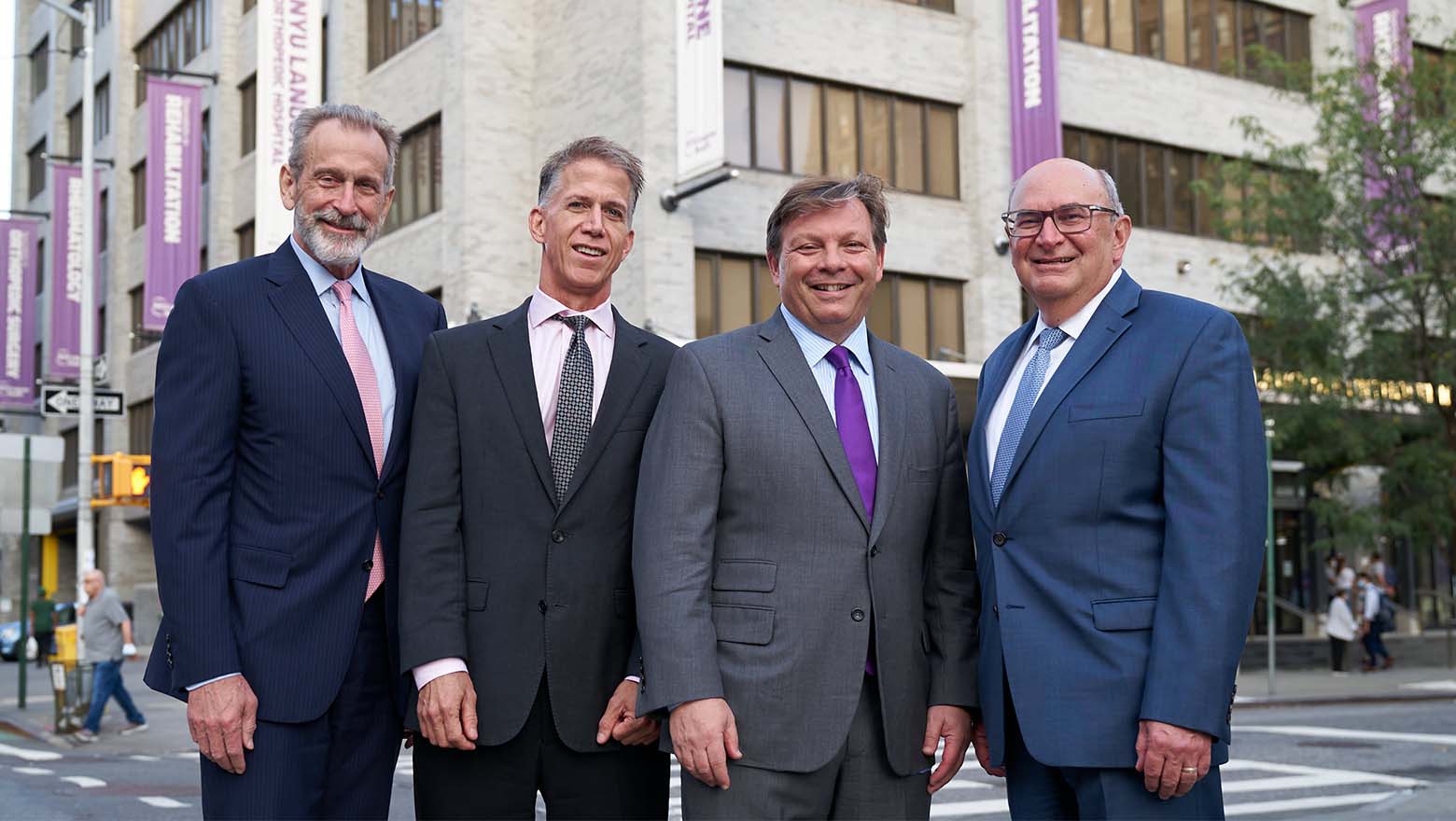 Integrated Records and Metrics
Physician Focus: In Fall 2021, the Leapfrog Hospital Safety Grade once again awarded "A" grades to NYU Langone Health's hospitals in Manhattan, Brooklyn, and Long Island. How are you utilizing metrics to improve quality across the system?
Dr. Bosco: We have a detailed system of metrics for nationally accepted quality indicators on a shared dashboard, and can show that we are improving on all of these metrics across the system. When you see your efforts come to fruition through better numbers and metrics, it just energizes everyone to work even harder.
Dr. Capozzi: The EMR system was probably the most important element; if you can't talk to each other or look at metrics or share patient charts and data, you're really at a disadvantage. That installation of one system-wide EMR system was done immediately and I think that was key. Our metrics keep improving because we all have numbers to look at and we know where we need to focus.
Physician Focus: Can you give a specific example of how the shared data has driven quality improvement?
Dr. Bosco: In 2020, we looked at our hospital-acquired conditions and found that there was a small uptick in the previous six months across all sites. Among the 10 hospital-acquired conditions that we track, we found that blood clots, or VTEs [venous thromboembolisms], were causing the increase. Why was that? Because of COVID-19.
We then formulated a strategy and operationalized new prophylactic DVT [deep vein thrombosis] protocols. As a result, we were able to address the increased DVT risk in near real time and provide our patients with safer, higher quality care.
As another example, in 2013 we were one of the first institutions to volunteer for the Centers for Medicare and Medicaid Services Bundled Care for Improvement Initiative. In this total joint risk-sharing program, hospitals are financially responsible for all care up to 90 days post discharge, including readmissions. The CMS-provided list of all 90-day readmissions allowed us to formulate improvement strategies that decreased our readmission rates by 70 percent.
Dr. Capozzi: On the Long Island campus, we have seen significant improvement on our total joint length of stay, our readmission rate, and our complication and mortality rates.
Dr. Lyon: Throughout the Brooklyn campus, in-hospital mortality rates have dropped by 33 percent since the merger, with other significant improvements in central line infections, catheter-associated urinary tract infections, and patient recommendations.
"Our metrics keep improving because we all have numbers to look at and we know where we need to focus."

James D. Capozzi, MD
A Shared Vision of Collaboration
Physician Focus: When you think about a successful medical system integration, what other elements are you considering?
Dr. Lyon: In Brooklyn, we needed a big influx of nursing to improve our nurse to patient ratios. After the integration, a huge amount of payroll capital helped us increase our nursing ratios to not only meet quality standards, but also exceed them. So we've seen major investments in nursing staff, facilities, and information technology.
Dr. Bosco: We've all derived benefits because we started from the point of a common culture and a vision of collaboration. For instance, Dr. Capozzi runs an outstanding fragility fracture service with unbelievable outcomes and detailed evidence-based care pathways, and we adopted those throughout our system. Dr. Lyon and his colleagues run an incredibly efficient operating room and we learned a lot from integrating some of their practices across NYU Langone Health as well. So it's certainly been a two-way street, and that's key for true integration.
"We've all derived benefits because we started from the point of a common culture and a vision of collaboration."

Joseph A. Bosco III, MD