Multiple approaches to effective IPAA
Select patients with inflammatory bowel disease can undergo a proctocolectomy with ileal pouch-anal anastomosis (IPAA) when intestinal inflammation has not been controlled by medications. The procedure offers symptom relief and long-term improvement in quality of life while also reducing neoplasia risk.
The IPAA procedure is complex and postoperative pouch failure occurs in upward of 15 percent of patients. If pouch failure does occur, transabdominal redo IPAA can preserve gastrointestinal continuity and avoid permanent ileostomy.
To increase the odds that pouch procedures provide lasting benefits, Feza Remzi, MD, professor of surgery and an international expert in pelvic pouch surgery, Shannon Chang, MD, associate professor of medicine at the Inflammatory Bowel Disease Center, and colleagues, including postdoctoral fellow Eren Esen, MD, have published a series of studies detailing how differing surgical approaches in both the index and redo IPAA setting impact outcomes. Collectively, their research highlights how the path to successful pouch surgery is wider than previously thought.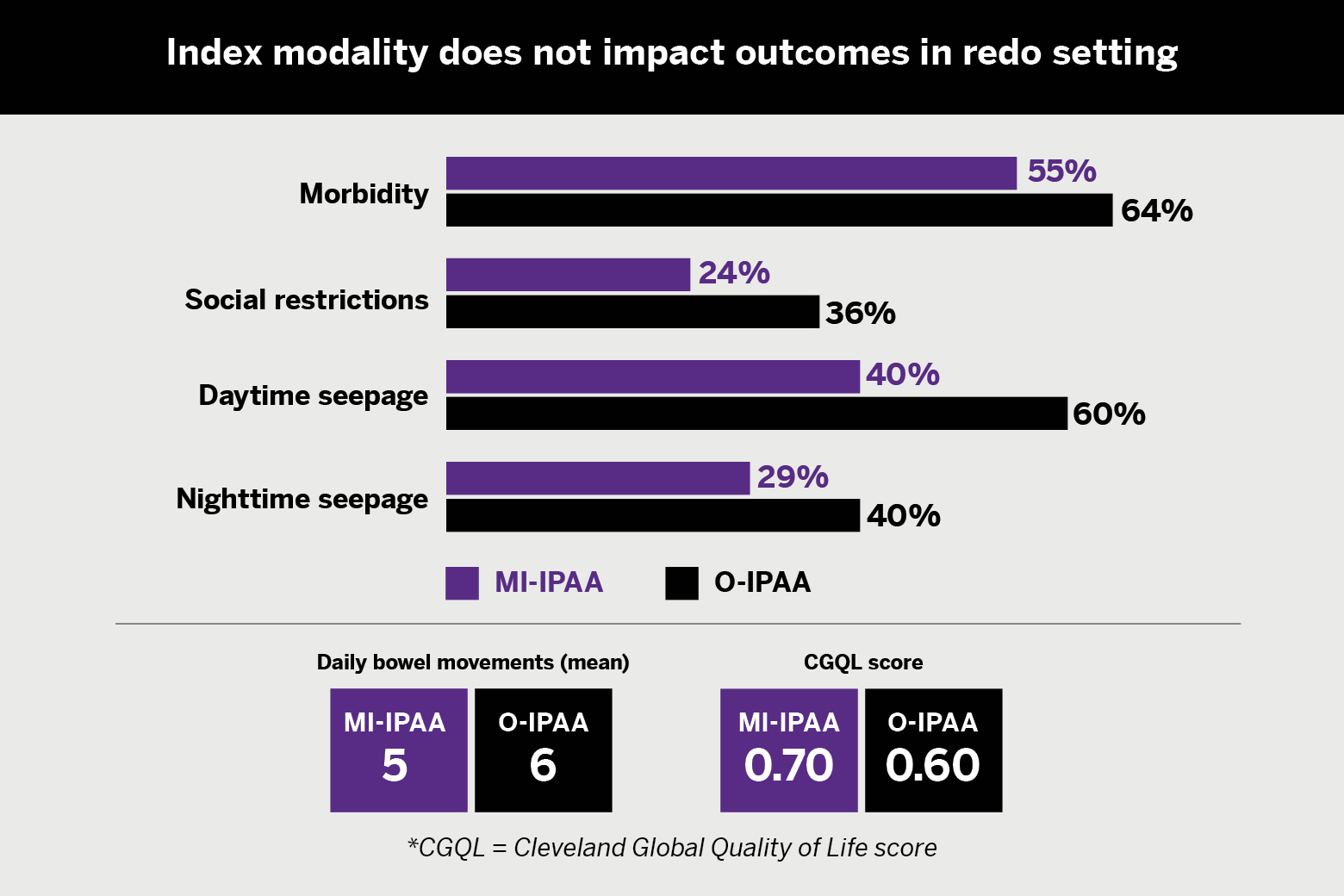 Comparing minimally invasive (MI-IPAA) versus open IPAA (O-IPAA) procedures, the study showed 55 versus 64 percent morbidity, 24 versus 36 percent social restrictions, 40 versus 60 percent daytime seepage, and 29 versus 40 percent nighttime seepage, respectively. Mean daily bowel movements was 5 versus 6, and Cleveland Global Quality of Life (CGQL) score was 0.70 versus 0.60 for MI-IPAA and O-IPAA procedures, respectively.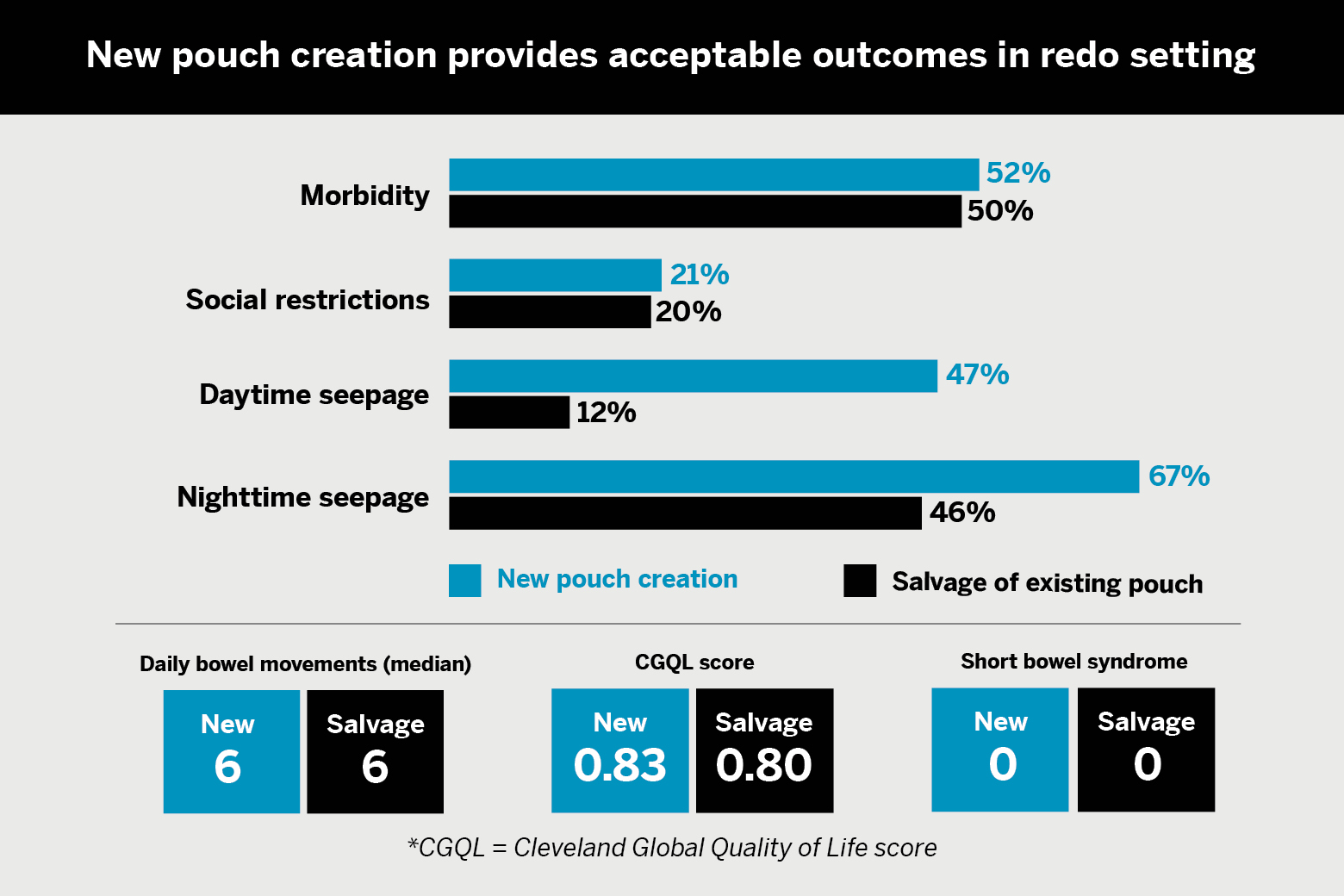 Comparing new pouch creation versus salvage of an existing pouch, study results showed 52 versus 50 percent morbidity, 21 versus 20 percent social restrictions, 47 versus 12 percent daytime seepage, and 67 versus 46 percent nighttime seepage, respectively. Mean daily bowel movements was 6 for both the new and salvaged pouches, and there were 0 bowel syndrome cases for both procedure types. CGQL score was 0.83 versus 0.80 for new versus salvaged procedures, respectively.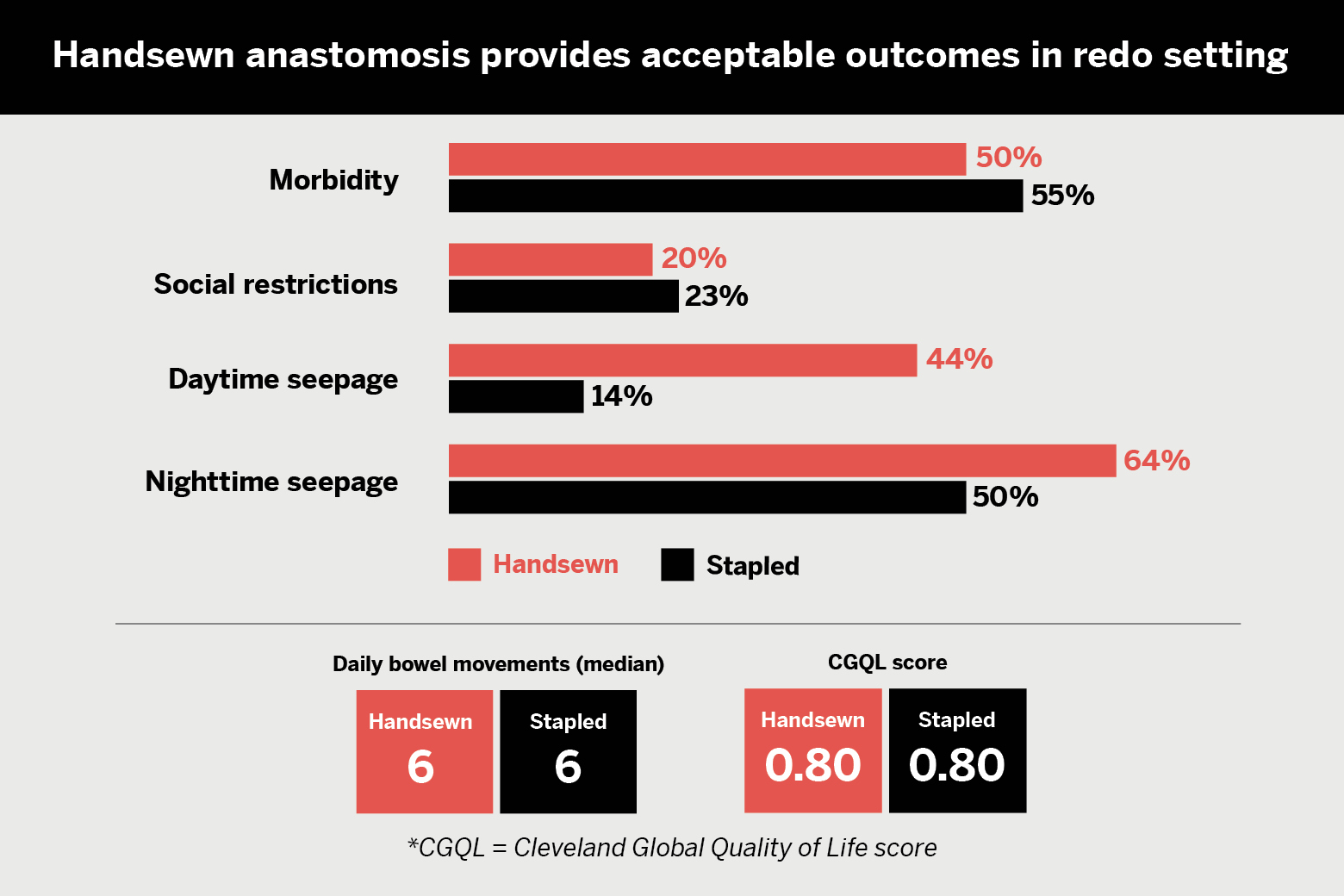 Comparing hand-sewn versus stapled anastomosis, study results showed 50 versus 55 percent morbidity, 20 versus 23 percent social restrictions, 44 versus 14 percent daytime seepage, and 64 versus 50 percent nighttime seepage. Mean daily bowel movements was 6 and CGQL score was 0.80 for both hand-sewn and stapled anastomosis.
"We hope that these important findings will help colleagues both in gastroenterology and surgery counsel IPAA patients who are considering a redo pouch."

Shannon Chang, MD